Mastering The Protocols for Optimization of Bio-identical Hormone Replacement Theory
Start:
December 4, 2020 – 8:00 am
End:
December 6, 2020 – 12:00 pm
One would think that 3 courses on HRT would be all that is needed to adequately practice BHRT. However, attendees have requested that they want more, but with more complexity and problem solving as opposed to didactic. Hence Part IV.
Although there are new articles, research, updates, literature critiques, and sarcasm (of course), the majority of this course will be problem solving, case management, mistakes to avoid, and tricks of the trade. The audience will consist of those with significant experience, questions, and issues that make for an excellent experience for both me and participants as we all learn from patients and ourselves. Extensive literature review in Parts I, II, & III have not allowed me to present all the interesting and complicated cases and situations that I have encountered in the last 15 years of practice. I have included 60 of my most complex and problematic cases from the last 15 years but it will require you to have masterful understanding of Parts I, II, and III in order to understand the reasoning behind the treatment and management of these problematic cases.
First, we will review the latest NAMS recommendations. It is a step in the right direction. However, I will use the medical literature to, of course, prove to them what they should have said and done as opposed to their sole reliance on the WHI trial. It should be the summation of all available data that should dictate our treatment, not just one study. We will then review the evolution from testosterone causes prostate cancer to maybe it protects against cancer to now where we prescribe it to men with active cancer. Although commonly (incorrectly) thought to cause prostate cancer, estrogen has been a mainstay to treat and protect against prostate cancer. In fact, it may be through aromatization that testosterone can protect against prostate cancer. We will also review at what level of estradiol results in a flip of the lipids that then become cardio-protective. Although it has been customary and fashionable to utilize aromatase inhibitors to block aromatization of testosterone to estrogen, the most recent study demonstrates using an AI increases gynecomastia, visceral and subq fat, cholesterol, and sexual dysfunction.
Please read the agenda and course outline for a more complete synopsis of topics and objectives. So, bring your tough cases, comments, thoughts and ideas and have another fun weekend with your talented peers. This will be a collection of the most talented and experienced physicians in this industry. Caution: Part IV will be thought provoking, intense, and very complex.
Upon completion of this workshop the health care professional will be able to:
1) Review prognosis and complications for radical prostatectomy, proton gun radiation therapy, brachytherapy, cryotherapy, HIFU, laser ablation, as well as costs.
2) Review management strategies and importance of testosterone utilization in prostate cancer survivors as well as literature support.
3) Evaluate the association of testosterone and estradiol levels and the risk of developing prostate cancer. Should we raise, block, or administer estrogen based on the literature?
4) Recognize that optimal thyroid levels are best as recent studies determine that high TSH levels are associated with increased arterial stiffness and plaque thereby increasing CVD risk.
5) Review the recent NAMS position statements that further distinguish the emerging differences in the therapeutic benefit-risk ratio between ERT & HRT at various ages and time intervals from onset of menopause.
6) Recognize high testosterone levels in women are associated with an increased risk of breast cancer. Also understand that studies show testosterone administration is protective against breast cancer and is apoptotic to cancer cells. This demonstrates that association does not prove causation and one should not extrapolate them to be the same.
7) Recognize high estrogen levels in men are associated with increased cardiovascular risk. However estrogen administration in men protects against heart disease and prostate cancer. This demonstrates another example where association does not imply causation.
8) Evaluate and discuss my 50 most difficult management cases involving HRT.
9) Identify current approaches to manage vaginal bleeding, DUB, and endometrial hyperplasia.
10) Discuss the recent medical evidence that seems to counter everything that you have learned in regards to preventing prostate cancer.
11) Review medical studies demonstrating the various mechanisms of estrogen's ability to stop prostate cancer growth.
12) Identify how Traumatic Brain Injury affects quality of life by pituitary dysfunction: When and how to test and not miss it.
13) Evaluate recent literature demonstrating the mechanism by which synthetic progestins increase breast cancer development through the production of the RANKL protein.
14) Utilize dual intravaginal therapy to maximize the effect on atrophic vaginitis, chronic UTI, incontinence, and sexual dysfunction.
15) Review the historical perspective that pieces together the studies to understand the complexities in the NAMS recommendation for HRT.
16) Evaluate abnormal lab tests and various symptoms in complex and confusing cases.
17) Evaluate when to use estrogen in premenopausal women and when not to use it: Anovulation vs. amenorrhea.
18) Identify different types of estrogen and progesterone and when to prescribe each.
19) Review various scenarios that dictate when to switch to alternate forms of HRT, based on history, BMI, risks, and compliance.
20) Discuss Hair loss in women: Current approach to reverse hair loss.
21) Describe various alternatives in testosterone administration in women.
22) Review when to switch from oral to transdermal estrogen; when to switch from transdermal to oral estrogen.
23) Discuss the current approach to preventing CVD in women with Syndrome W (X).
24) Discuss how to treat the vagina with pills, patches, rings, and things.
25) Review of management strategies for progesterone intolerance.
26) Discuss HRT review, myths, updates, alternatives when the usual routine doesn't work.
27) Update on diagnosis, treatment, and prevention of prostate cancer. Should we be prescribing estrogen to men instead of blocking it?
28) Review management strategies for estrogen intolerance.
29) Evaluate the best prevention and treatment for incontinence and UTI, from wet to dry and dry to wet. Prevention is the key before use of drugs or surgery.
30) Identify current recommendations from NAMS for HRT and ERT and how they differ from past recommendations.
31) Review the history as to why the world believes testosterone causes prostate cancer.
32) Review further data demonstrating that E2 is the best estrogen but not the safest.
33) Review literature of spironolactone and its BBW.
34) Discuss the most recent FDA BBW for testosterone as it pertains to MI, CVA, and DVT.
42) Review dosing and administration of tranexamic acid to stop your patients from bleeding.
Neal Rouzier, MD
Dr. Neal Rouzier is a pioneer in the bio identical hormone replacement field, practicing almost since its inception in the early 1990's. He has dedicated his life's work to uncovering the medical literature that supports safe and effective protocols for unique and personalized patient care. He is the Director of the Preventive Medicine Clinics of the Desert, specializing in the medical management of aging and preventive care for men and women. He has treated more than 2,000 patients with natural hormone replacement therapy and is recognized as a renowned leader and expert in the field. Additionally, Dr. Rouzier is the author of Natural Hormone Replacement for Men and Women: How to Achieve Healthy Aging. He has over 16 years of experience as an educator and practicing physician, and 29 years of Emergency Medicine experience at Queen of the Valley Hospital in West Covina, CA.
Location & Travel Details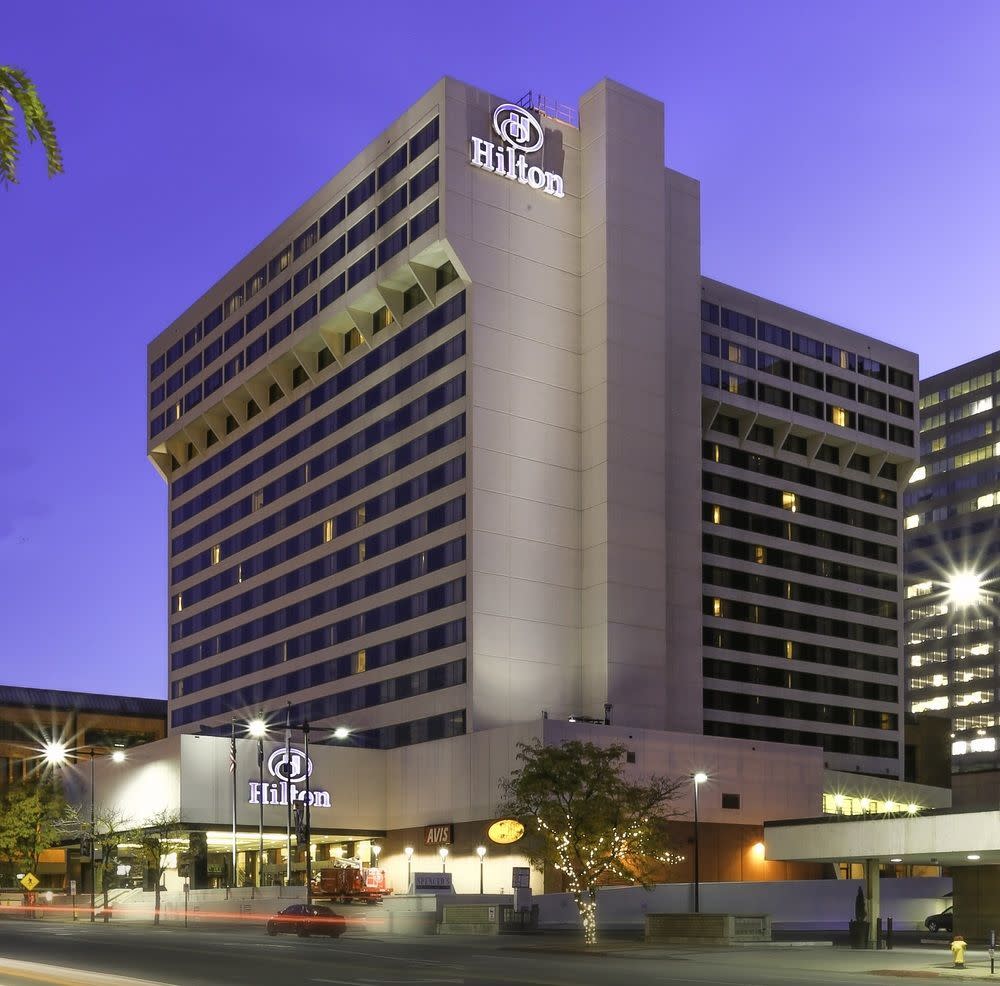 Hilton Salt Lake City Center
255 S W Temple
Salt Lake City, UT 84101
(801) 328-2000
The room block rate is $129.00
Click Here to make your hotel room reservation
Nearest Airport -Salt Lake City International Airport (SLC)