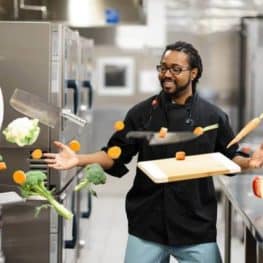 Ed McDonald, MD
Internist, Chef and Assistant Professor of GI, University of Chicago
About

Dr. Ed McDonald is a trained chef and board certified physician dedicated to improving the health of individuals and communities through nutrition education. He obtained his undergraduate education at the University of Michigan and his medical education at Northwestern University Feinberg School of Medicine. During medical school, he developed an interest in community health education and subsequently developed program focusing on training local hip-hop and spoken word artists as health educators with funding support from the Albert Schweitzer Fellowship. This program was inspired by his experience of training barbers as health educators at the CNN featured, Project Brotherhood, a clinic focusing on the health of African-American men in Chicago. His experience at Project Brotherhood made him keenly aware of the impact of social determinants of health, but he was most interested in the effects of nutrition on health and disease.
After medical school, he completed an internship and residency in internal medicine at Northwestern. As a resident, Dr. McDonald often shared recipes with his clinic patients at the Jesse Brown VA Medical Center. Witnessing the effects of simple lifestyle interventions on the health of his patients prompted him to seek further training in nutrition. He then completed a fellowship in clinical nutrition at the University of Chicago and culinary training at the prestigious Kendall College School of Culinary Arts. He subsequently completed a fellowship in Gastroenterology at Rush University Medical Center. Dr. McDonald currently is an Assistant Professor in Gastroenterology at the University of Chicago. He is also the Associate Director of Adult Nutrition at the University and an instructor in culinary medicine.
Dr. McDonald has conducted basic science research in gastroenterology with funding through the National Institute of Diabetes and Digestive and Kidney Diseases (NIDDK). He has presented research at national meetings including Digestive Disease Week. His current research interests include small intestinal disorders, obesity, nutrition education, health disparities, and colon cancer prevention. His articles have been featured in scientific journals, including the New England Journal of Medicine.