The science in the field of regenerative medicine is advancing at a rapid pace. Using your own Platelet Rich Plasma (PRP) to heal, regenerate and rejuvenate is growing in popularity as an 'organic' way to treat injuries and rejuvenate our skin. It's popular because it works without use of outside drugs and patients are asking for this. There is an abundance of evidence to support its use and we will provide an extensive literature section for attendees to review. This course combines online training and video style presentations and demonstrations with actual in-person or live stream practical application and participation.
Objectives
Describe how to prepare PRP and some of the key elements of how to provide the best patient outcomes.
Gather important assessment information and identify key landmarks, appropriate dosages, and correct techniques for performing the PRP facelift.
Recall important assessment information before procedures and how to correctly perform PRP injections for patients when treating Alopecia, Male Enhancement Shot, Incontinence Shot, Breast rejuvenation and Ortho injections.
Physician Bio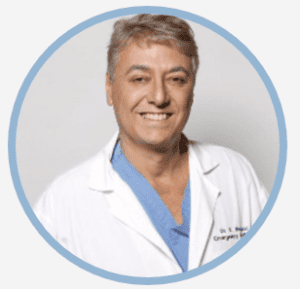 Vincent Nacouzi, M.D. is the medical director at Raleigh Botox & Laser Center and First Choice Medical Transport. He has been a board-certified emergency medicine physician for over 30 years. After working as a researcher in chemistry and molecular biology at UCLA, Dr. Nacouzi attended medical school at New York Medical College and completed his residency in emergency medicine and critical care at the University of Southern California. His extensive emergency medicine experience was developed as an attending at multiple Level 1 Trauma Centers including L.A. County, Lincoln, WakeMed, and Duke Hospital. Meanwhile, his love for longitudinal patient care was the reason behind his conception of North Raleigh Medical Center, where he practiced for over 15 years with his wife, a family practice physician.
Throughout his time treating as an emergency physician and his own recovery experience in an intensive care unit following a near-fatal car accident, Dr. Nacouzi became passionate about how to enhance patient recovery. Given his expertise in toxicology and his research experience at UCLA, Dr. Nacouzi began to explore how the recovery process could be approached from the cellular level. Through attending conferences on regenerative medicine, where he eventually came across hormone therapies and Platelet Rich Plasma (PRP) therapies and the benefits they offered patients. The rest is history. Today, Dr. Nacouzi, offers a variety of regenerative and cosmetic therapies to patients across the state through his practice, Raleigh Botox & Laser Center. Additionally, he teaches CME-accreditation courses on PRP therapies to physicians across the United States. His trauma and research experiences have helped him and his team provide treatment to over 10,000 patients, and to advance each subsequent generation of PRP therapy. He is a licensed provider of the Vampire Facelift® and Vampire Facial® procedures, a member of the IAPAM (International Association for Physicians in Aesthetic Medicine), American Academy of Facial Esthetics (AAFE), and president of the Carolina Cellular Association.