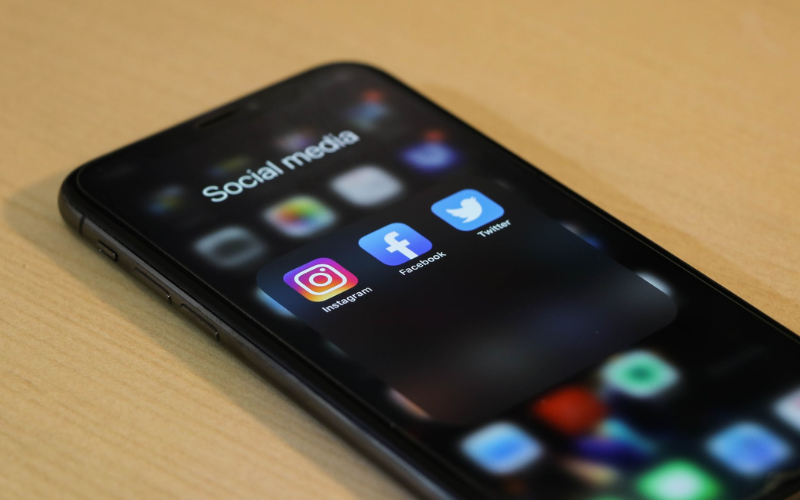 How to Grow via Social Media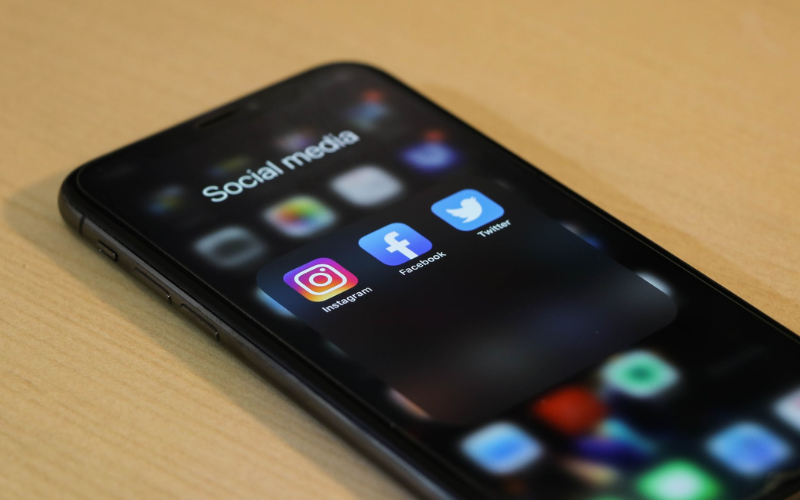 Growing Through Social Media
If you are interested in learning more about the value and efficacy of Bioidentical hormones in HRT as an alternative to medication-based therapies, please consider our four part hormone optimization workshop series.
Ten years ago it was impossible to convince many business owners that they needed social media to do business. Now in 2020, having a winning social media account is like hunting for gold in the next big gold rush. Top social media accounts are now holding followings of over 200 million users and yielding a societal influence that is so high the FTC (Federal Trade Commission) has had to institute provisions for "social media influencers."
The value of creating a social media channel that widens your brand's sphere of influence, creates more brand awareness and directly creates conversions is so high, that Social Media Marketing is now being taught at institutions nationwide and is an emerging stand alone profession. In 2020, there is no question that a social media strategy must become an integral part of your business if your goal is to compete in the digital world.
As a result, businesses are creating social media profiles in unprecedented numbers. However, a large portion of new small business owners will struggle to get the type of engagement they desire after launching a social media profile because they simply don't understand how social media works.
In this 3 part guide on how to grow on social media (see Strategies to Accelerate the Growth of your Social Media Accounts, and Creating Leads & Generating Conversions From Social Media Profiles), we are going to break down the basics of how to create a thriving social media profile that will actually add value to your business. To start, we'll answer the question, "how does social media work?".
How Does Social Media Work?
The basis of all social media growth is based on something I like to refer to as "the sharing phenomenon" or in general terms, its how the algorithm works!
Let's take this example of Miguel to demonstrate what potential audiences we can capture when sharing our content.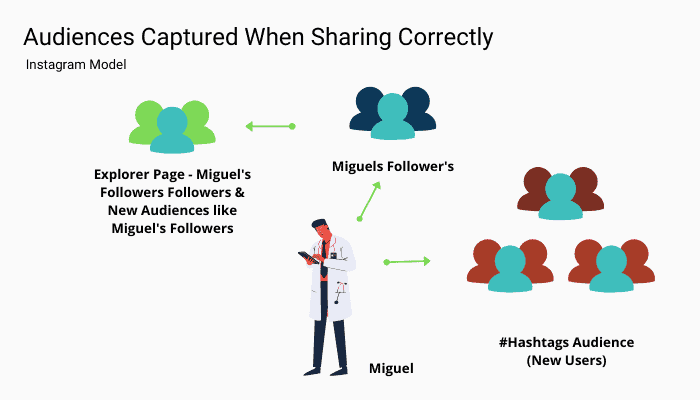 When Miguel posts to his Instagram account, he is primarily posting for his audience that he has already established. But, he realizes he still needs to grow, so he uses #hashtags to show his posts to users searching for content that applies to his services. Miguel creates valuable interesting content, so he gets lots of likes from non-followers just looking through hashtags and his own following engages (likes and comments) with his posts a lot. Because of this, the Instagram algorithm rewards Miguel's content and shows it to a bigger audience on the Explore page.
Algorithm: The algorithm is like a recipe. Although, instead of making a pie, the goal is to find the most engaging content. Social media platforms do this by taking in several factors related to your posts, including: how many likes it gets in a certain amount of time after posting, how many comments you have received, and other variables to determine how much they will "share" your content.
This in essence is the basic goal of social media.
Like investing, social media also has a compounding effect. The bigger your account gets the easier it becomes to grow, and the more influence you have on the algorithm. This simple concept applies not only to social media platform algorithms but also to search engine algorithms like Google.
How to Make the Algorithm Work for You
Understanding most social media algorithms is not rocket science and many of these suggestions you may have heard before. However, doing them correctly is harder than what can be easily described. We are going to use the Facebook/Instagram algorithm as a basis for these next few advices, but these simple tips can be applied to all platforms:
1. Make Quality Content
As simple as many people think this is, this is by far the number 1 thing that most small business owners struggle with. The reason is because "quality" to most people is subjective. However, quality to Instagram/Facebook and most audiences is not. There are a few easy fixes you can apply to your profiles to get better results. The first is creating consistency. Profiles that follow an editing style and that are easy to generally view do better than those were all posts look too visually different. While you may want to unleash your creative side, professionals will tell you that creating branding consistency is a much higher priority.
The second is to create value in your content. This can be done in many different ways, but offering information for free is generally the best way to gain your audience's trust.
The last tip is to create video content. Over the last decade, there has been tons of data collected on content on the internet, and we have come to understand that video content is the king of all content types. Following in suit, social media platforms have begun to prioritize video content, seemingly giving people more of the type of content they really want.
2. Build The Correct Community For Your Goal
When done right, social media platforms will show your content to people who follow you, their followers, and more like 6-degrees of separation. This also occurs when you, yourself, are viewing your own feeds and suggested content. Let's take a look at this example of Hillary to see how she is incorrectly building a community: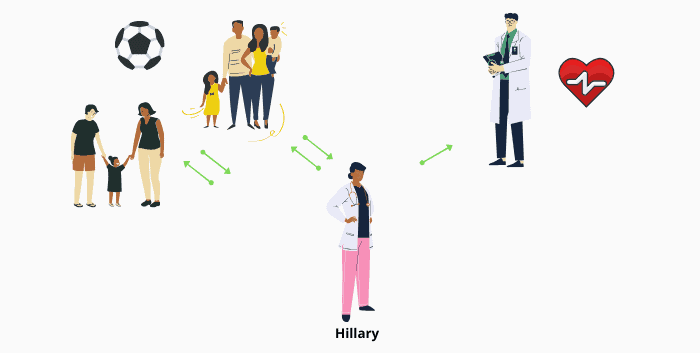 Hillary just got an Instagram profile and she really wants to grow her brand amongst her colleagues and get more people to know about her practice. Hillary follows mostly her friends and family, but she also has followed just a few other colleagues. Hillary's family and friends are mostly the people that follow her back and they are really into soccer. Her colleagues, who care about heart health like in Hillarys practice, have not followed Hillary back.
So, what is the result of this situation for Hillary?

Hillary is mostly shown soccer content and other content put out by pages like the audiences she mostly follows. The content that she creates about heart health is mostly shown to friends of Hillary's friends and family, or other people similar to them, and not to other colleagues and potential patients who care about heart health. This is because Instagram see's that she is not really followed by colleagues in that community.
This example illustrates the importance of building the correct community for your goal. In situations where you want to reach your primary audience directly you must ensure that you are participating in the "space" that they are in. So while it may be tempting to follow your whole family and every friend from college, be sure to ask yourself what is the goal of your profile and who exactly is your content for? Once you know those questions, then participate and follow in that niche.
3. Consistently Participate
For many small business owners this is also a very difficult concept to grasp at first. There are many people who are naturally resistant to sharing what they are doing all day, and for good reason. Learning what type of sharing is good sharing, navigating politically correct waters, and fielding negative feedback in comments can be a lot to take on. However, I cannot stress enough that social media is very similar to investing. The more you put in, the better the result.
It is recommended that at the very least, you are creating 2 posts per day, sharing daily in your stories, and creating quality videos regularly. While this may sound daunting at first, it can be much simpler and much more effective with the correct mentality.
Many people struggle with the concept that "documenting," will get them further than "advertising." There is a tremendous amount of pressure to create perfectly constructed posts and videos because people think this is "professional." And while there is always a certain level of professionalism required in your content, you will struggle if you take the mentality that every piece of content made must look like a perfectly constructed advertisement and you run the risk of actually losing your audience's trust. While all content should be professional in nature, the level of quality is less important than consistently engaging with your audience, which is why simply documenting your day can be a super effective strategy.
It is equally important to be active amongst your target audiences. Leave comments, like pictures, and add value in discussions that are ongoing online.
According to the same organization, "5 million older adults sought medical attention for adverse drug events (ADEs) in 2018 (1)."
Applying These Concepts To The Real World
While much of social media may seem like another world, it's important to remember that many of the concepts that drive it, are actually practical things that come from the real world. Social Media was originally called Social Networking, because it works very similarly to how a networking conference in the real world would work. When we are able to understand how it works from a technical point of view and apply our real world knowledge, then a real valuable result can be created from our use of social media.
In my next post I will expand on different strategies that can be used to accelerate the growth of your social media profiles. After that, we will release a full guide on generating leads and creating conversions from social media profiles.
If you want to grow your practice by expanding your businesses online footprint, the first step is being equipped with the correct digital skillset. You can learn these skills, strategies, and more in person by attending our featured business course – How to Create Predictable Profit in Your Cash Pay Practice. If you have any questions about the course or getting setup on social media please feel free to email me or leave a comment.